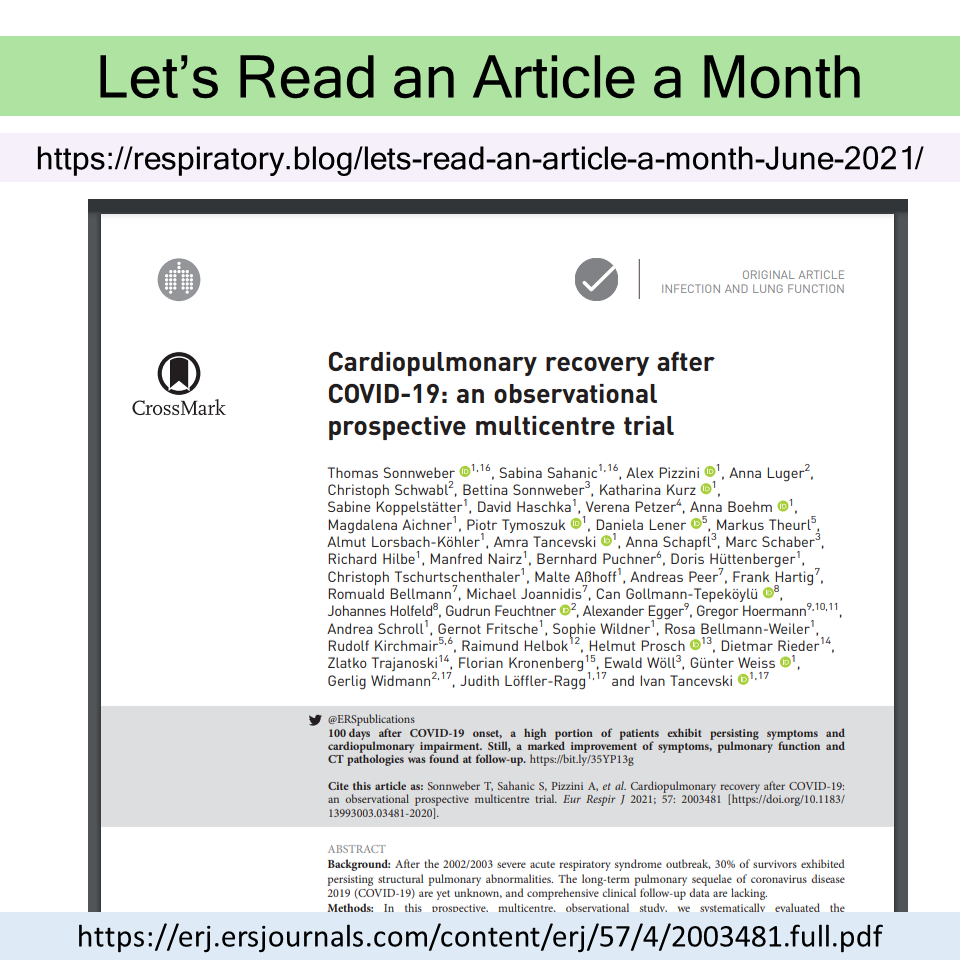 Every month I try to read an open-access article. After reading the article, I share the title and associated link with my followers. This is to encourage clinicians to read articles, stay up to date, and continue to grow.
This month's article falls under infection and lung function. The objective of this paper is to "systematically evaluating the persisting cardiopulmonary damage of COVID-19 patients 60 days and 100 days after COVID-19 onset" (p2).
---
Cardiopulmonary recovery after COVID-19: an observational prospective
multicentre trial
By: Thomas Sonnweber, Sabina Sahanic, Alex Pizzini, Anna Luger, Christoph
Schwabl, Bettina Sonnweber, Katharina Kurz, Sabine Koppelstätter, David
Haschka, Verena Petzer, Anna Boehm, Magdalena Aichner, Piotr Tymoszuk,
Daniela Lener, Markus Theurl, Almut Lorsbach-Köhler, Amra Tancevski, Anna
Schapfl, Marc Schaber, Richard Hilbe, Manfred Nairz, Bernhard Puchner,
Doris Hüttenberger, Christoph Tschurtschenthaler, Malte Aßhoff, Andreas
Peer, Frank Hartig, Romuald Bellmann, Michael Joannidis, Can
Gollmann-Tepeköylü, Johannes Holfeld, Gudrun Feuchtner, Alexander Egger,
Gregor Hoermann, Andrea Schroll, Gernot Fritsche, Sophie Wildner, Rosa
Bellmann-Weiler, Rudolf Kirchmair, Raimund Helbok, Helmut Prosch, Dietmar
Rieder, Zlatko Trajanoski, Florian Kronenberg, Ewald Wöll, Günter Weiss,
  Gerlig Widmann, Judith Löffler-Ragg and Ivan Tancevski.
Eur Respir J 2021 57:2003481; published ahead of print 2020,
doi:10.1183/13993003.03481-2020 OPEN ACCESS ARTICLE
Link to the ERS article page  http://erj.ersjournals.com/content/57/4/2003481?etoc
---
Reasons you may find this article interesting
I have noticed a trend of increased referrals for patients with past diagnoses of COVID19.  As the local rates for the virus decreases, patients and ordering physicians have felt more confident sending patient to the outpatient PFT lab of the hospital.  This is another useful article to better plan and look after such patients. 
While this study has its limitations such as 

being specific to Austria, 
includes individuals with existing comorbidities, and 
lacks pre-infection diagnostic testing, 

However, it still delivers a lot of useful information.  The study includes questionnaires, PFT, cap. Gas samples, TEE, CT and other routine lab examinations (p3).  I strongly recommend that you look over each component in the results section: Clinical Evaluation at follow-up, Cardiopulmonary evaluation at follow-up, Serological Markers, and Pulmonary Imaging (pp 4-6).
Happy learning and reading!
Farzad Refahi
https://respiratory.blog/lets-read-an-article-a-month-june-2021/