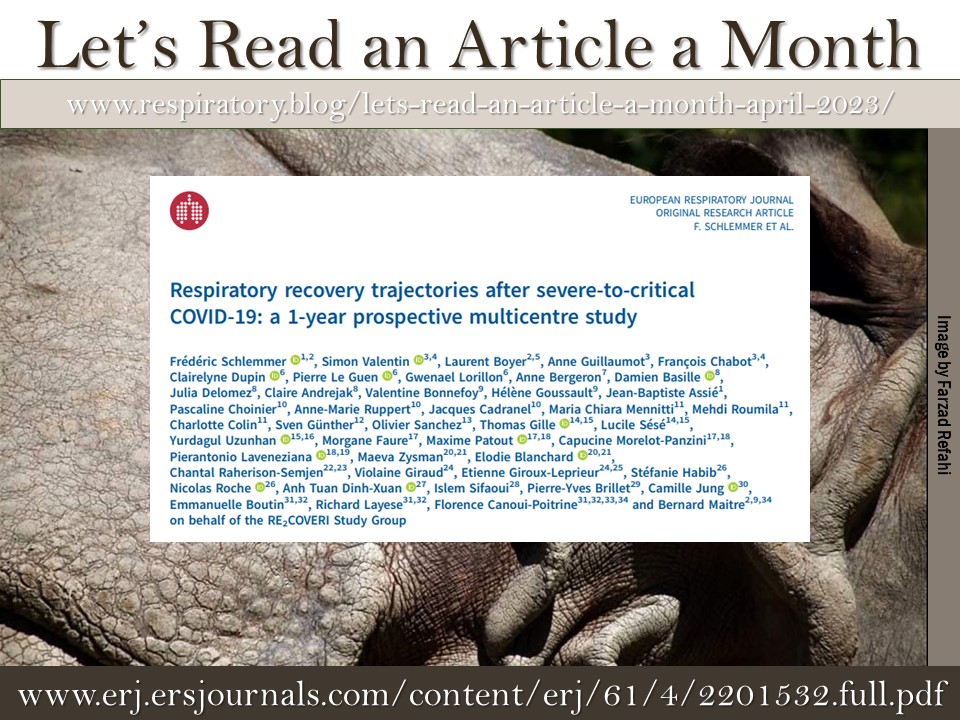 Every month I try to read an open-access article. Then, I share the title and associated link with my followers. This is to encourage clinicians to read articles, stay up-to-date, and continue to grow.
The objective of this month's paper is to "to assess survivors' short-term (month 3 (M3)), intermediate-term (month 6 (M6)) and long-term (month 12 (M12)) trajectories of lung function recovery after severe-to-critical COVID-19, and their determinants" (p2).
---
Respiratory recovery trajectories after severe-to-critical COVID-19: a 1-year prospective multicentre study
Frédéric Schlemmer, Simon Valentin, Laurent Boyer, Anne Guillaumot, François Chabot, Clairelyne Dupin, Pierre Le Guen, Gwenael Lorillon, Anne Bergeron, Damien Basille, Julia Delomez, Claire Andrejak, Valentine Bonnefoy, Hélène Goussault, Jean-Baptiste Assié, Pascaline Choinier, Anne-Marie Ruppert, Jacques Cadranel, Maria Chiara Mennitti, Mehdi Roumila, Charlotte Colin, Sven Günther, Olivier Sanchez, Thomas Gille, Lucile Sésé, Yurdagul Uzunhan, Morgane Faure, Maxime Patout, Capucine Morelot-Panzini, Pierantonio Laveneziana, Maeva Zysman, Elodie Blanchard, Chantal Raherison-Semjen, Violaine Giraud, Etienne Giroux-Leprieur, Stéfanie Habib, Nicolas Roche, Anh Tuan Dinh-Xuan, Islem Sifaoui, Pierre-Yves Brillet, Camille Jung, Emmanuelle Boutin, Richard Layese, Florence Canoui-Poitrine, Bernard Maitre on behalf of the RE2COVERI Study Group
European Respiratory Journal 2023 61: 2201532; DOI: 10.1183/13993003.01532-2022
Link to the article: https://erj.ersjournals.com/content/erj/61/4/2201532.full.pdf
---
N=485
" Most patients with prolonged follow-up had progressive lung function, exercise capacity and radiological improvements, with greater progress made during the first 6 months post-hospital discharge than thereafter. "

page 11
"PFT results frequently remained abnormal at M6 and M12, with restriction and markedly impaired DLCO persisting in ∼40% and almost half of patients with prolonged follow-up, respectively. While the decreased 6MWT distance reflected initial disease severity, no significant difference among groups was observed for the number of repetitions during the 1MSST or the peripheral oxygen saturation change during both exercise capacity tests."

page 7
As always, take the time to study the article and learn about all the results and findings.
Happy reading and learning,
Farzad Refahi
April 26, 2023
https://respiratory.blog/lets-read-an-article-a-month-april-2023/