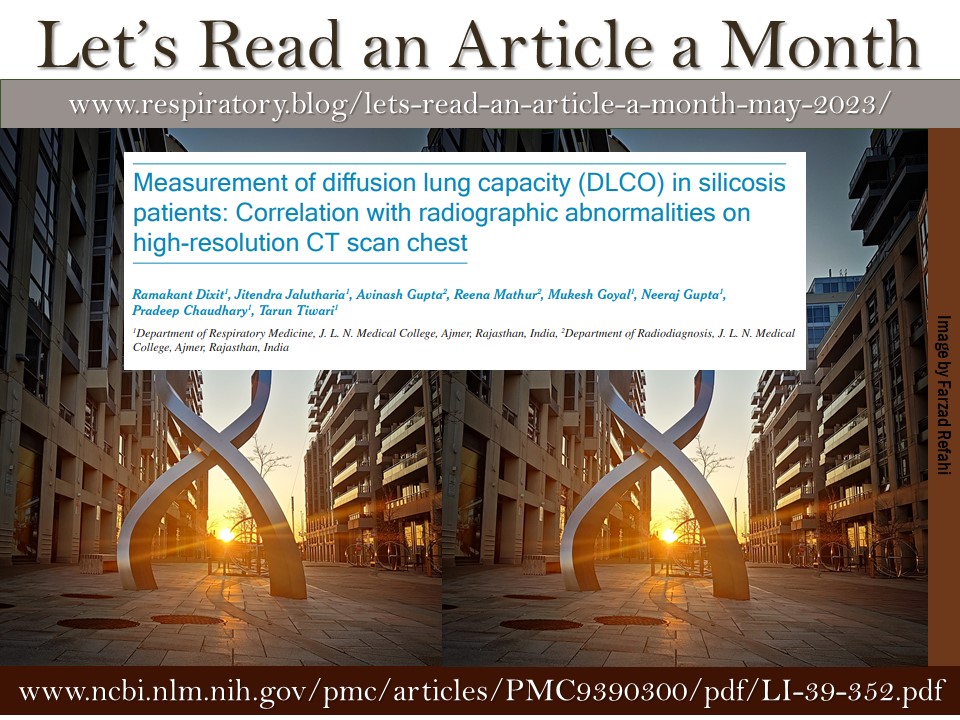 Every month I try to read an open-access article. Then, I share the title and associated link with my followers. This is to encourage clinicians to read articles, stay up-to-date, and continue to grow.
The objective of this month's paper is to "find out the correlation, if any, between DLCO and severity of radiological abnormality on high-resolution-CT (HRCT) scan chest among silicosis patients" (p353). 
---
Measurement of diffusion lung capacity (DLCO) in silicosis patients: Correlation with radiographic abnormalities on high-resolution CT scan chest. Lung India.
By: Dixit R, Jalutharia J, Gupta A, Mathur R, Goyal M, Gupta N, Chaudhary P, and Tiwari T. 
2022 Jul-Aug;39(4):352-356. doi: 10.4103/lungindia.lungindia_280_21. PMID: 35848668; PMCID: PMC9390300.
Link to the article: https://www.ncbi.nlm.nih.gov/pmc/articles/PMC9390300/pdf/LI-39-352.pdf
---
"… simple silicosis (category 0, 1) does not produce significant impairment in lung function; however, impairment in lung function on spirometry or DLCO or a combination of these two was observed in patients with advanced simple silicosis (category 3)."

page 355
"…in patients presenting with large opacities, there is a progressive decrease in DLCO with increasing extent of radiological abnormality on HRCT (r > −0.8, P < 0.001). "

page 355
"… HRCT chest is the most sensitive tool to assess deterioration in DLCO at the earliest. This study also suggests that functional damage of lungs correlates more strongly with the extent of larger opacities compared to small opacities.

page 356
As always, take the time to study the article and learn about all the results and findings. 
Happy reading and learning,
Farzad Refahi
May 2nd, 2023