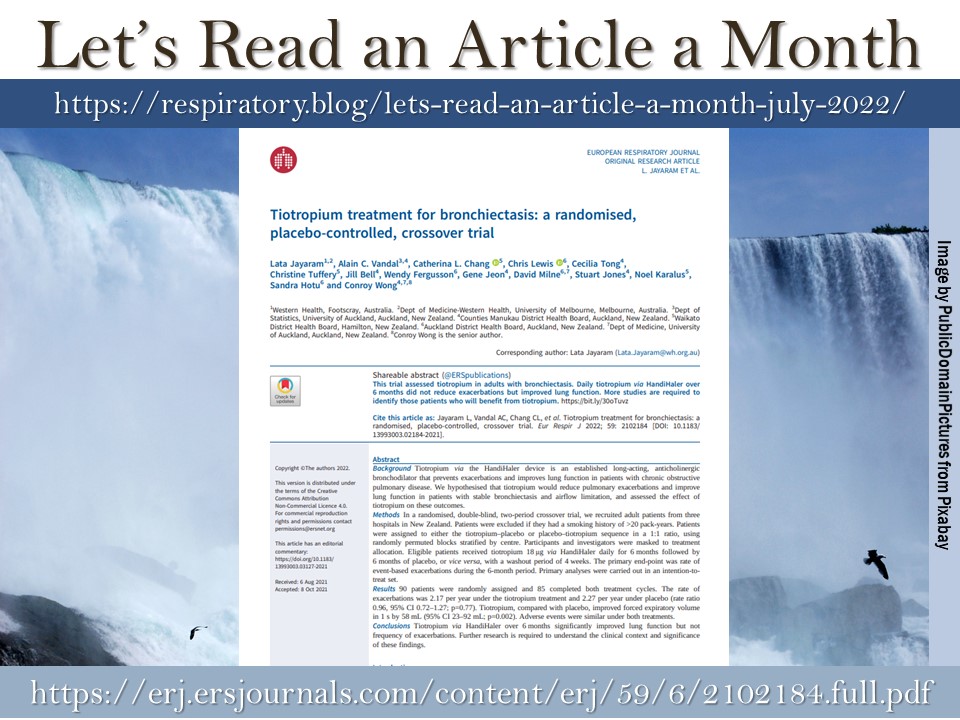 Every month I read an open-access article. I share the title and associated link with my followers to encourage clinicians to read more articles, stay up to date, and continue to grow.
The objective of this month's paper is "to evaluate whether inhaled tiotropium via HandiHaler, similar to COPD, reduced exacerbations and improved lung function in adult patients with bronchiectasis and airflow limitation" (p2).
---
Tiotropium treatment for bronchiectasis: a randomised, placebo-controlled, crossover trial
By: Lata Jayaram, Alain C. Vandal, Catherina L. Chang, Chris Lewis, Cecilia Tong, Christine Tuffery, Jill Bell, Wendy Fergusson, Gene Jeon, David Milne, Stuart Jones, Noel Karalus, Sandra Hotu, and Conroy Wong.
European Respiratory Journal 2022 59: 2102184; DOI: 10.1183/13993003.02184-2021
Link to the article: https://erj.ersjournals.com/content/erj/59/6/2102184.full.pdf
---
"Exacerbations did not decline with tiotropium compared with placebo despite the improvement in lung function" (p7).
[While lung function improvement reached statistical significance in our study, with post-bronchodilator differences in FEV1 of 58 ml (3%) and FVC of 78 ml over the 6-month period, the clinical relevance of these results is unclear, given the lack of improvement in other patient-related outcome measures] (p7).
Happy reading and learning,
Farzad Refahi
July 25, 2022
https://respiratory.blog/lets-read-an-article-a-month-july-2022/