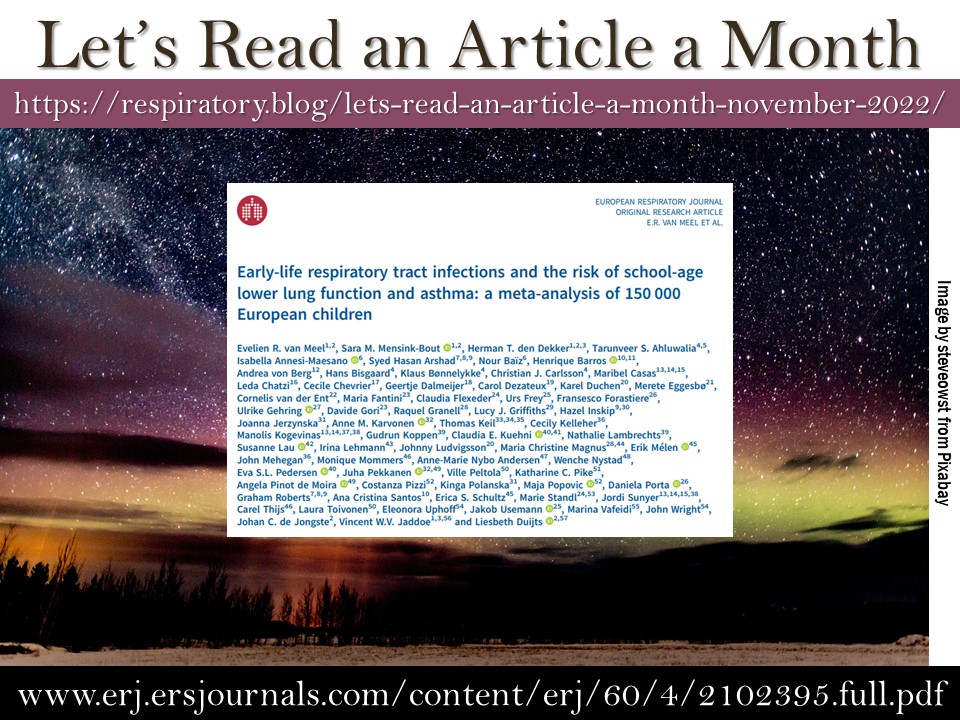 Every month I read an open-access article. I share the title and associated link with my followers to encourage clinicians to read more articles, stay up-to-date, and continue to grow.
The objective of this month's paper is to "examine the associations of early-life upper and lower respiratory tract infections with lung function and asthma at school age" (p3).
---
Early-life respiratory tract infections and the risk of school-age lower lung function and asthma: a meta-analysis of 150 000 European children
By: Evelien R. van Meel, Sara M. Mensink-Bout, Herman T. den Dekker, Tarunveer S. Ahluwalia, Isabella Annesi-Maesano, Syed Hasan Arshad, Nour Baïz, Henrique Barros, Andrea von Berg, Hans Bisgaard, Klaus Bønnelykke, Christian J. Carlsson, Maribel Casas, Leda Chatzi, Cecile Chevrier, Geertje Dalmeijer, Carol Dezateux, Karel Duchen, Merete Eggesbø, Cornelis van der Ent, Maria Fantini, Claudia Flexeder, Urs Frey, Fransesco Forastiere, Ulrike Gehring, Davide Gori, Raquel Granell, Lucy J. Griffiths, Hazel Inskip, Joanna Jerzynska, Anne M. Karvonen, Thomas Keil, Cecily Kelleher, Manolis Kogevinas, Gudrun Koppen, Claudia E. Kuehni, Nathalie Lambrechts, Susanne Lau, Irina Lehmann, Johnny Ludvigsson, Maria Christine Magnus, Erik Mélen, John Mehegan, Monique Mommers, Anne-Marie Nybo Andersen, Wenche Nystad, Eva S.L. Pedersen, Juha Pekkanen, Ville Peltola, Katharine C. Pike, Angela Pinot de Moira, Costanza Pizzi, Kinga Polanska, Maja Popovic, Daniela Porta, Graham Roberts, Ana Cristina Santos, Erica S. Schultz, Marie Standl, Jordi Sunyer, Carel Thijs, Laura Toivonen, Eleonora Uphoff, Jakob Usemann, Marina Vafeidi, John Wright, Johan C. de Jongste, Vincent W.V. Jaddoe, Liesbeth Duijts"
European Respiratory Journal 2022 60: 2102395; DOI: 10.1183/13993003.02395-2021 . Received: 2 Sept 2021. Accepted: 9 March 2022.
Link to the article: https://erj.ersjournals.com/content/erj/60/4/2102395.full.pdf
---
"The prevalence of upper and lower respiratory tract infections was highest at the age of 1 year" (p4).
"The mean prevalence of asthma across all cohorts was 12.3%" (p4).
"1) early-life upper respiratory tract infections were associated with an increased risk of school-age asthma, not lung function, and 2) early-life lower respiratory tract infections were associated with increased risks of both school-age lower lung function (FEV1, FEV1/FVC and FEF75%) and asthma. "

p7
Happy reading and learning,
Farzad Refahi
November 9th, 2022
https://respiratory.blog/lets-read-an-article-a-month-November-2022/