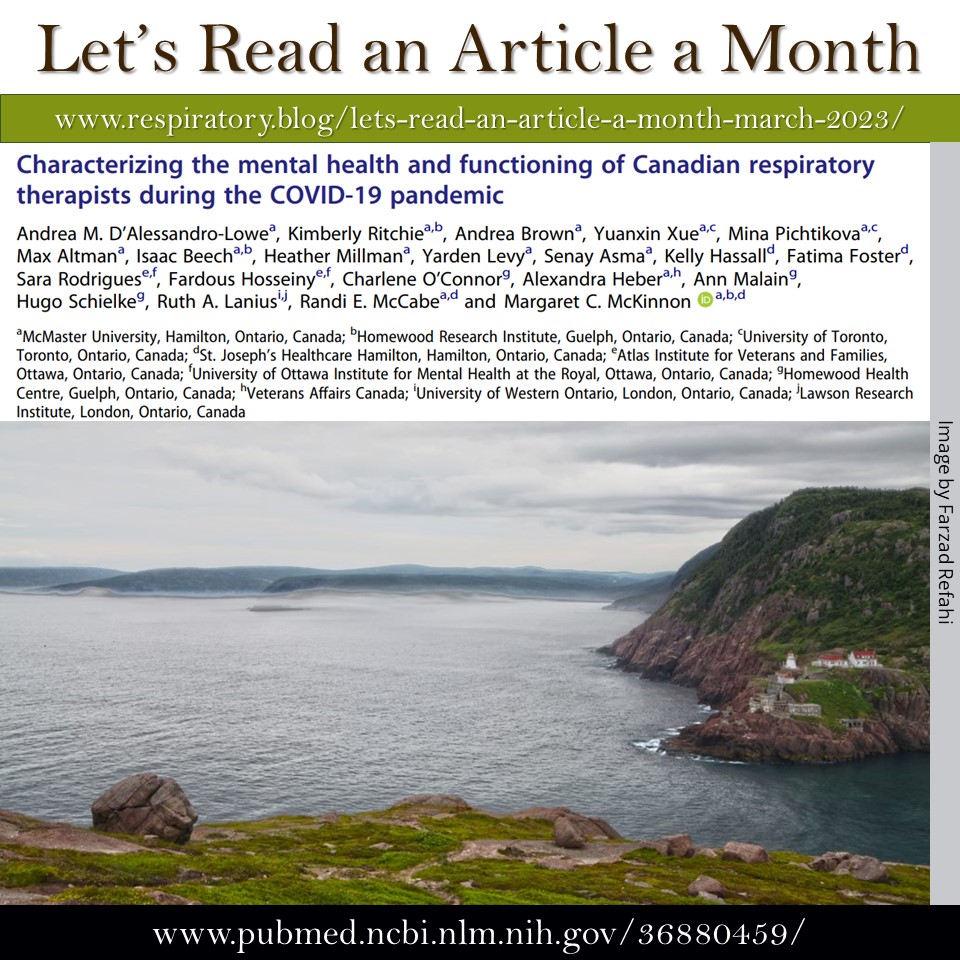 Every month I try to read an open-access article. Then, I share the title and associated link with my followers. This is to encourage clinicians to read articles, stay up-to-date, and continue to grow.
The objective of this month's paper is to "characterize the mental health and functioning of Canadian RTs and compare profiles between RTs working on and off designated COVID-19 units" (p3).
---
Characterizing the mental health and functioning of Canadian respiratory therapists during the COVID-19 pandemic
By D'Alessandro-Lowe AM, Ritchie K, Brown A, Xue Y, Pichtikova M, Altman M, Beech I, Millman H, Levy Y, Asma S, Hassall K, Foster F, Rodrigues S, Hosseiny F, O'Connor C, Heber A, Malain A, Schielke H, Lanius RA, McCabe RE, and McKinnon MC..
Eur J Psychotraumatol. 2023;14(1):2171751. doi: 10.1080/20008066.2023.2171751. PMID: 36880459; PMCID: PMC9990694.
Link to the article: https://www.ncbi.nlm.nih.gov/pmc/articles/PMC9990694/pdf/ZEPT_14_2171751.pdf
---
"The results of the present study suggest the need for adequate mental health supports for Canadian RTs. "

page 8
" Almost one in five (18%) of the participants scored above the cut-offs for depression, anxiety, stress and PTSD, collectively."

page 7
" Depression, anxiety and stress, PTSD and functional impairment scores did not significantly differ between those on and off COVID-19 units (p's > .05) ."

page 7
"RTs are excluded from presumptive legislation surrounding PTSD in some Canadian provinces."

page 8
Happy reading and learning,
Farzad Refahi
March 18th, 2023
https://respiratory.blog/lets-read-an-article-a-month-MARCH-2023/