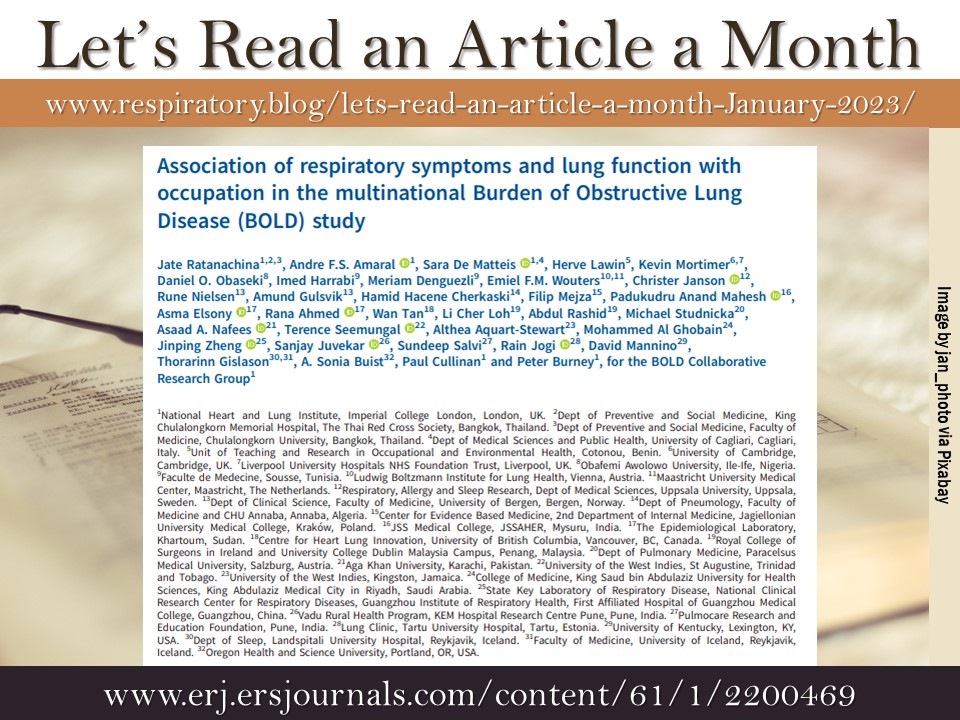 Every month I try to read an open-access article. Then I share the link with my followers. This is to encourage clinicians to read articles, stay up to date, and continue to grow.
This month I found a great piece to share with you. The objective of this paper is to "to assess the association of respiratory symptoms and lung function with occupation in the Burden of Obstructive Lung Disease" (p6).
---
Association of respiratory symptoms and lung function with occupation in the multinational Burden of Obstructive Lung Disease (BOLD) study
By: Jate Ratanachina, Andre F.S. Amaral, Sara De Matteis, Herve Lawin, Kevin Mortimer, Daniel O. Obaseki, Imed Harrabi, Meriam Denguezli, Emiel F.M. Wouters, Christer Janson, Rune Nielsen, Amund Gulsvik, Hamid Hacene Cherkaski, Filip Mejza, Padukudru Anand Mahesh, Asma Elsony, Rana Ahmed, Wan Tan, Li Cher Loh, Abdul Rashid, Michael Studnicka, Asaad A. Nafees, Terence Seemungal, Althea Aquart-Stewart, Mohammed Al Ghobain, Jinping Zheng, Sanjay Juvekar, Sundeep Salvi, Rain Jogi, David Mannino, Thorarinn Gislason, A. Sonia Buist, Paul Cullinan, and Peter Burney.
European Respiratory Journal 2023 61: 2200469; DOI: 10.1183/13993003.00469-2022
Link to the article: https://erj.ersjournals.com/content/61/1/2200469
---
"We found no significant associations between post-bronchodilator FEV1/FVC ratio or FVC and work in any of the high-risk occupations. FEV1/FVC was low in coal miners, sandblasters, chemical or plastic processors and steel millers with long durations of exposure, but these associations were not statistically significant. Moreover, there was no evidence of exposure-response associations of either post-bronchodilator lung function measures with any of the specific occupations."

page 6
"Chronic phlegm but not chronic airflow obstruction was more likely to occur among users than among never-users of solid fuels."

page 12
"The occurrence of occupational asthma, presenting with wheeze and breathlessness without affecting post-bronchodilator lung function. This can be induced by substances in workplaces such as animal dusts, flour, chemicals and metals."

page 12
Happy reading and learning!
Farzad Refahi
www.respiratory.blog/lets-read-an-article-a-month-january-2023/