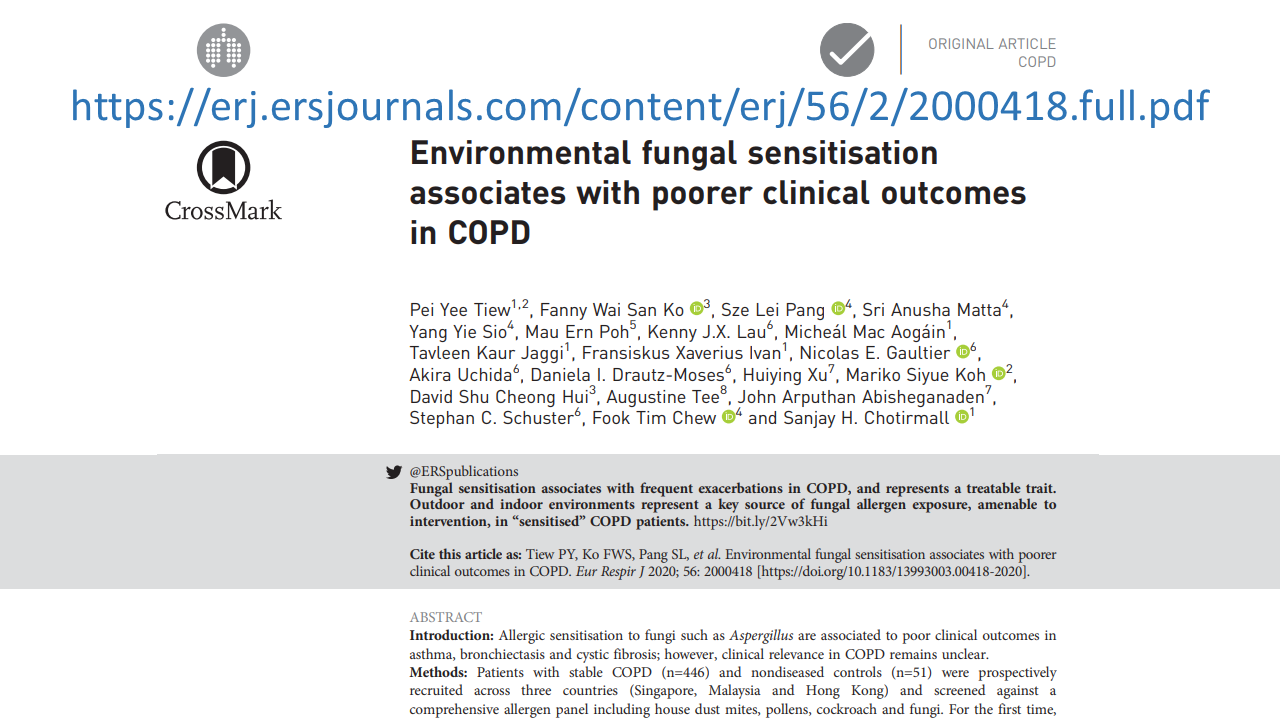 Every month I try to read an open-access article. After reading the article, I share the tittle and associated link with my followers. This is to encourage clinicians to read articles, stay up to date, and continue to grow.
Link to the article: https://erj.ersjournals.com/content/erj/56/2/2000418.full.pdf
Link to the blog post: https://respiratory.blog/lets-read-an-article-a-month-november-2020/
This month I found a great piece to share with you. This one falls under COPD. The objective of this paper is to " assess the role of sensitisation on clinical outcomes in COPD using a large Asian cohort recruited across three countries, and, for the first time, assess the influence of environmental allergen exposure using a metagenomics sequencing approach." (p2).
---
Environmental fungal sensitisation associates with poorer clinical outcomes in COPD
By: Pei Yee Tiew, Fanny Wai San Ko, Sze Lei Pang, Sri Anusha Matta, Yang Yie Sio, Mau Ern Poh, Kenny J.X. Lau, Micheál Mac Aogáin, Tavleen Kaur Jaggi, Fransiskus Xaverius Ivan, Nicolas E. Gaultier, Akira Uchida, Daniela I. Drautz-Moses, Huiying Xu, Mariko Siyue Koh, David Shu Cheong Hui, Augustine Tee, John Arputhan Abisheganaden, Stephan C. Schuster, Fook Tim Chew, and Sanjay H. Chotirmall

European Respiratory Journal 2020 56: 2000418; DOI: 10.1183/13993003.00418-2020 https://erj.ersjournals.com/content/56/2/2000418?etoc
---
Commonly used abbreviations in this article include home dust mite (HDM) and Global Initiative for Chronic Obstructive Lung Disease (GOLD).

When it comes to restriction to environmental sensitivities, asthma is the first in my mind. This article reminded me that people with COPD may also benefit from the identification of their sensitivities and in turn limiting their exposure to them.
Top 3 Reasons why I enjoyed this article
>> Individual care. There are so many variances in personal experiences with diseases. This article is an example of this. "Sensitisation responses and their respective allergen profiles exhibit geographical variation, largely determined by climate, environment, genetics, cultural and social practices and account, at least in part, for the variable reports in the COPD literature" (p9).
>> I value the effort by these authors to exclude asthma/ACOS patients as it increases the value and accuracy of their study.
>> How caring for patients, especially those prone to exacerbations may take indoor and outdoor irritants into consideration: "… we observe that the outdoor and indoor (home) environment serves as an important reservoir of fungal allergen exposure translating to sensitisation responses to outdoor air fungi in a subgroup of COPD patients. Indoor (home) environments demonstrating a higher fungal allergen burden associate with greater COPD symptoms and poorer lung function illustrating the importance of environmental exposures on COPD outcomes." (p9)
This article is a great reminder of how we need to look at each patient as a person with a unique circumstance, genes, environments and living space. With a better understanding of the impact of fungal allergen exposure in some patients with COPD, clinicians have more variables to assess and monitor.
Happy learning and reading!
Farzad Refahi
November 1st, 2020
https://respiratory.blog/lets-read-an-article-a-month-november-2020/