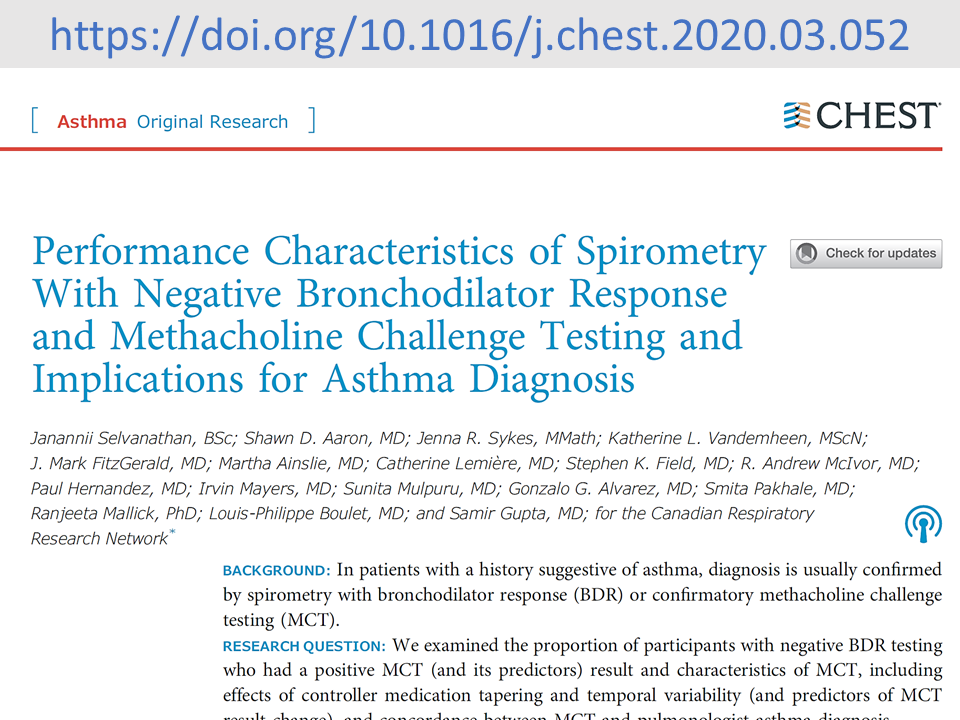 Every month I try to read an open-access article. After reading the article, I share the tittle and associated link with my followers. This is to encourage clinicians to read articles, stay up to date, and continue to grow.
Link to the article: https://doi.org/10.1016/j.chest.2020.03.052
Link to the blog post: https://respiratory.blog/lets-read-an-article-a-month-september-2020/
This month I found a great piece to share with you. This one falls under Asthma and Original Research. The objective of this paper is to "examine the proportion of participants with negative BDR testing who had a positive MCT (and its predictors) result and characteristics of MCT, including effects of controller medication tapering and temporal variability (and predictors of MCT result change), and concordance between MCT and pulmonologist asthma diagnosis." (1st page of the article, p.479)
Performance Characteristics of Spirometry With Negative Bronchodilator Response and Methacholine Challenge Testing and Implications for Asthma Diagnosis
By: Janannii Selvanathan BSc, Shawn D. Aaron MD, Jenna R. Sykes, MMath, Katherine L. Vandemheen MScN, J. Mark FitzGerald MD, Martha Ainslie MD, Catherine Lemière MD, Stephen K. Field MD, R. Andrew McIvor MD, Paul Hernandez MD, Irvin Mayers MD, Sunita Mulpuru MD, Gonzalo G. Alvarez MD, Smita Pakhale MD, Ranjeeta Mallick PhD, Louis-Philippe Boulet MD, Samir Gupta MD
Edition: VOLUME 158, ISSUE 2, P479-490
Link to the article: https://doi.org/10.1016/j.chest.2020.03.052
Common abbreviations used in this study and blog post include PFT= pulmonary function testing, BDR= bronchodilator response and MCT= methacholine challenge testing (p.479).
Reasons you may find this article interesting:
It is on asthma which impacts many individuals in the population ("the third most common chronic disease in adults" p.480).
This article involves many recognisable and respectable experts. The authors of this study have also taken part in many other research projects as well. For my Canadian followers, many of these authors work in Canada! I have been lucky enough to attend and enjoy talks, in person and virtually, by Dr. Shawn Aaron, Dr. Gonzalo G. Alvarez and Dr. Samir Gupta.
There were follow up testings to assess the accuracy and consistency of the findings.
This article is an excellent reminder for clinicians who order these tests to properly instructs patients to prepare for PFT and MCT. Variability in MCT results based on seasons, environmental allergies, and impacts of other medications are important considerations.
This is a well-written article. There is a nice flow that guides the reader through the method and the reasoning behind those decisions. The results, conclusions and reflections are also nicely done.
My reflections and thoughts after reading this article
If you have almost no time to read the full article: Firstly, make time as this is a great article. Secondly, if you still don't have time then check out the 'Take-home Point' on the second page of the article where authors have included a quick summary and conclusions from this article (p.480).
I am worried that many patients may go undiagnosed or misdiagnosed. Asthma can be properly managed; Prolonged uncontrolled asthma can lead to more frequent exacerbations but also permanent changes to the lungs.
As respiratory health community and excerpts, we need to educate clinicians and patients so they get tested. Also, we need to raise the minimum standard so testing gets performed by trained individuals who have access to proper, accurate and well-maintained equipment. In addition, we have to make sure these clinicians know how to interpret and follow up with patients correctly. For example, not to just rely on a pre-spirometry. In case post-spirometry was done, we need to have knowledgeable clinicians who don't automatically exclude asthma when no significant improvement was evident. We need clinicians who know the importance of MCT, and organizations to support the costs related to the testing. Besides, we want clinicians to understand that there are factors that could impact the MCT outcomes. 6.9% of participants who initially had a negative MCT end up having a positive reaction in the follow-up testing and 55.6% of those who initially had a positive MCT end up having a negative one in the follow-up testing ( Figure 2B, p.484). On the bigger image, it is essential to understand that PFT and MCT are not the ultimate answers and they are just assessment tools that need to be tied with other clinical assessments and evidence.
What are your thoughts on this?
Happy learning and reading!
Farzad Refahi
September 1st, 2020
https://respiratory.blog/lets-read-an-article-a-month-september-2020/