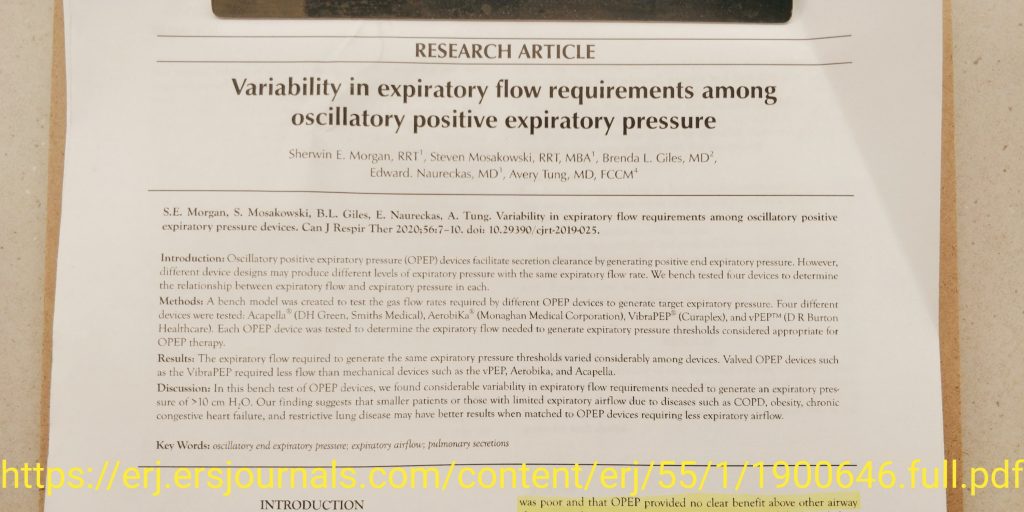 An Article A Month
Every month I try to read an open-access article. After reading the article, I share the tittle and associated link with my followers. This is to encourage clinicians to read articles, stay up to date, and continue to grow.
I found an article on March 9th, 2020. I spent a few days with it, and now I share it with you.
Variability In Expiratory Flow Requirements Among Oscillatory Positive Expiratory Pressure Devices

by Sherwin E. Morgan, RRT, Steven Mosakowski, RRT, MBA, Brenda L. Giles, MD, Edward Naureckas, MD, Avery Tung, MD, FCCM
Published online March 4, 2020. Available on The Canadian Journal of Respiratory Therapy (CJRT) : https://www.cjrt.ca/wp-content/uploads/cjrt-2019-025.pdf
Top 3 Reasons Why I enjoyed this Article
Firstly, this article is quick and easy to read.
Secondly, I had forgotten about the various Oscillatory Positive Expiratory Pressure (OPEP) devices on the market. This article was a nice introduction to various flows and pressures required to operate the units. The authors provide a recommendation for which units to be used by which population (small vs. larger patients) on page 10.
Thirdly, in the introduction the authors discuss the proper technique for using these devices (referencing Olsen et. al). You can find this description on pages 7 and 8.
Once again, you can view this article by visiting CJRT (which is owned by Canadian Society of Respiratory Therapists): https://www.cjrt.ca/wp-content/uploads/cjrt-2019-025.pdf
Happy Reading! Let me know what you think.
Farzad Refahi
http://respiratory.blog/lets-read-an-article-a-month-march-11-2020/
[End]