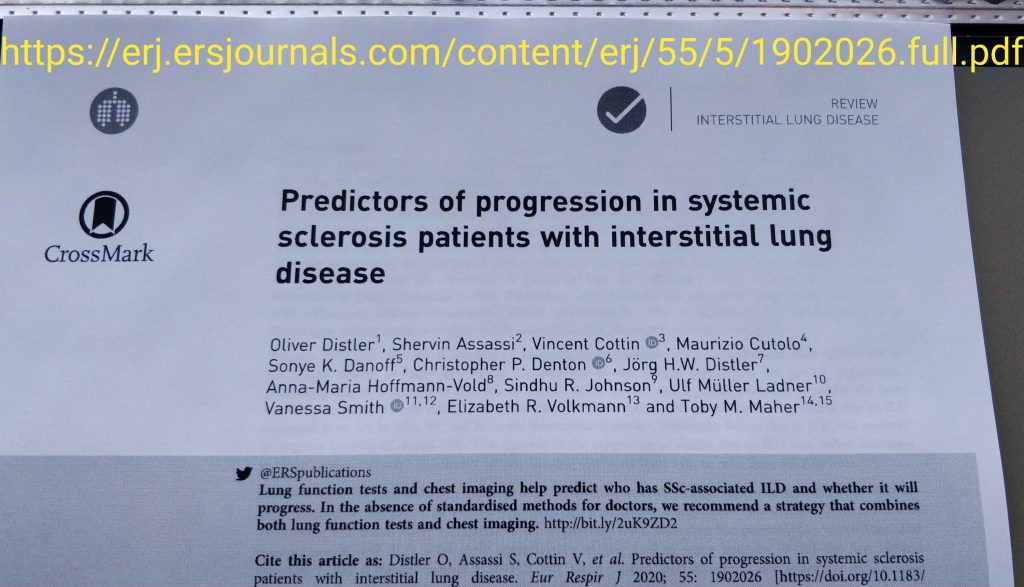 Every month I try to read an open-access article. After reading the article, I share the title and associated link with my followers. This is to encourage clinicians to read articles, stay up to date, and continue to grow.
This month I found a great article on June 20th, 2020. I spent a few days with it, and now I share it with you.
Predictors of progression in systemic sclerosis patients with interstitial lung disease
Oliver Distler, Shervin Assassi, Vincent Cottin, Maurizio Cutolo, Sonye
K. Danoff, Christopher P. Denton, Jörg H.W. Distler, Anna-Maria
Hoffmann-Vold, Sindhu R. Johnson, Ulf Müller Ladner, Vanessa Smith,
Elizabeth R. Volkmann and Toby M. Maher
Eur Respir J 2020 55:1902026; published ahead of print 2020,
doi:10.1183/13993003.02026-2019 OPEN ACCESS
https://erj.ersjournals.com/content/erj/55/5/1902026.full.pdf
Top 3 reasons why I enjoyed reading this article:
-A well-written review of key pathways implicated in systemic sclerosis-associated interstitial lung disease (pp2-4 ). Inflammatory pathways are complex and while I enjoy reviewing them, I never tend to be able to memorize them. There is also a nice diagram that goes along with the description (i.e. Figure 1 on page 3).
-An insider and expert view of the challenges involved with the disease diagnosis. When it comes to interstitial lung disease, there is so much for me to read and learn about. I am involved with the Pulmonary Diagnostic side of respiratory care, and mostly I see patients with confirmed diagnosis of interstitial lung disease (usually in the later stages). Occasionally I do see patients who have some indications in an imaging test, CXR or Chest-CT, and are visiting the PFT lab for additional information. "One potential barrier to diagnosis a lack of awareness within primary care of SSc, which can lead to late referrals" (p.5).
-If you are involved with pulmonary diagnostics, you will enjoy this article as there are references to lung function values (with some references to 6MWTs) (found on pp 7-8).
Happy Learning!
Farzad Refahi
June 25, 2020
http://respiratory.blog/let's-read-an-article-a-month–june-2020/