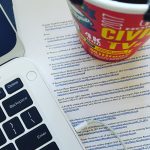 As some of you know, I used to have photography social media accounts and now have focused my energy into my respiratory therapy blog. This involvement with social media for these years have brought an awareness to some of the mindsets, trends and external observations to online presence. I would say with confidence that now there is more noise than useful information. If people didn't see or follow the evolution of Internet and social media, they may mistake the online "noise" as the true front of these online individuals and companies. While I do not consider myself an expert or a role model in this area, my involvement in this field has allowed me to identify individuals who have more realistic views of the online "process".
In the following video Gary V. talks about one's willingness and drive to dedicate "spare" time to achieve the desired outcome. Pay attention to how his advice is focused on what individuals truly want versus what they should want due to the influence of social trends and peer pressure. Also that you need to enjoy being involved in the process than necessarily the outcome (as there is learning in failure as well).
Personally, I believe in actions speaking louder than words. Also that there is hard work involved in every process. There are few true "easy" ways to reach greatness. In my respiratory therapy blog I have interviewed many successful individuals in the RT field and while their journey and achievements vary, they share characteristics such as hard work, self reflection, resilience and at times unique opportunities.
I encourage you to step back and re-evaluate what truly makes you happy, and that what you do or think is in line with that mindset. Continue to grow, learn and connect.
Stay curious.
Be kind to yourself and others.
[End]